Balfour Declaration Day
November 2
|
Recurring Event
(See all)
An event every year that begins at 12:00am on day 2 of November, repeating indefinitely
November 2, 1917: Not just a day in history, but the first international recognition of the right to a National Home for the Jewish People in the Land of Israel.  Join in celebrating one step toward the fulfillment of the thousands-year-old dream!
A member of the House of Lords once asked Chaim Weizmann, "Why do you Jews insist on Palestine when there are so many undeveloped countries you could settle in more conveniently?"  Weizmann responded: "That is like my asking you why you drove twenty miles to visit your mother last Sunday when there are so many old ladies living on your street."
However, the Balfour Declaration was not perfect and the State of Israel certainly has a right to sue the UK: https://ukmediawatch.org/2016/07/29/jews-not-palestinians-have-every-right-to-sue/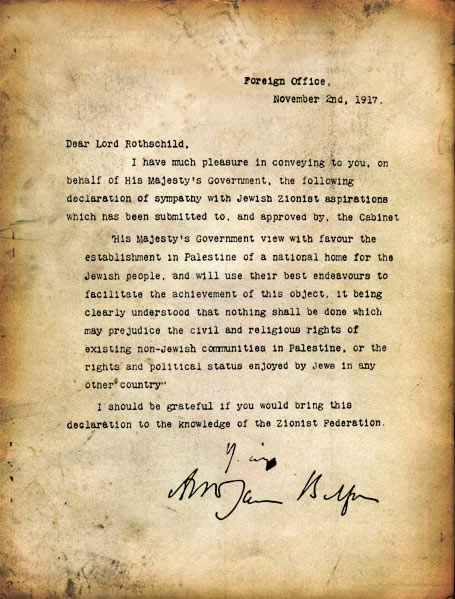 See also www.commentarymagazine.com/foreign-policy/middle-east/2160865why-battle-over-balfour-declaration/;
See also www.gatestoneinstitute.org/9273/balfour-declaration .
Related Events